Here's a question for you: Do you believe in love at first sight? Before you answer, I challenge you to ask your spouse the same question and for you to have a conversation about it. It is OK if you don't believe in it, or if it wasn't the case in your relationship/marriage. But the reason I ask is because I want you to think about what it means to be in love and to actively engage in this love with your spouse.
Click the image to get 10% off the book, plus a special wine & drink pairing guide for each chapter, courtesy of wine expert John Buechsenstein.
This is one of the main purposes of my book Spicing Up Married Life – to get couples to sit down and talk together over a meal they cook together. With 12 chapters, this makes it a chance to have a month-aversary to make time to celebrate your relationship and continue to improve it. The root of a good family life is the love between husband and wife, so it can't be put on the back burner. Discussion questions are used to spur up great conversations and reflections for couples. In fact, many couples have told me how much it has changed their relationships in great ways.
One such couple are my dear friends of mine who you may recall from previous posts – YouTubers Joe Anderson a.k.a. Joe Nation and Jess Lizama. They are getting married in July, and as their celebrant, I am helping them with marriage prep. Part of that marriage prep is to go through the book Spicing Up Married Life and testing the chapter discussions and recipes out. They have been enjoying it a lot and not just for the food. Check out this video they made about their experience with the book:
My friends from YouTube are excited about getting married and about using SUML to help them prepare for it. Check it out!
With Valentine's Day being next Tuesday, I encourage you to check out the book and start having monthly dinner dates. To help encourage this, use the Promo Code VDAY17 to get 10% off and have a special wine and drink pairings list for each chapter recipe, courtesy of wine expert John Buechenstein of the Culinary Institute of America, sent your way. The book works year round, but now is a great time to get it in time for Valentine's Day, because it is known for being a romantic holiday (named for a saint) in which people often give someone they love special cards i.e. Valentines and candy, or take them on a fancy dinner date, and more. But to help better prepare you for the holy day, how much do you actually know about St. Valentine?
He is actually a martyr from the 3rd century, and not much is known about him at all, to the point where the Roman Catholic Church removed him from the General Roman Calendar, though still recognizing him as a Saint and martyr. There is speculation that there were multiple St. Valentines all of whom are tied to February 14, while others suggest that it was just one. Though there are different accounts of his life, a common account is that he healed the blind daughter of a judge and in so doing, converted many to Christianity, including the judge himself. Later arrested again, the Emperor had St. Valentine beaten and beheaded when he refused to renounce his faith.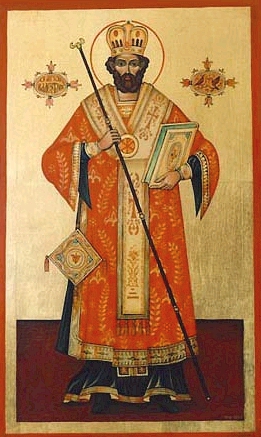 Click to learn more about St. Valentine, courtesy of Catholic.org. .
Not quite so lovey-dovey, right? But it certainly is a beautiful account of the love this saint had for Christ and the courage he had to share the faith. And now, when you ask your spouse about love at first sight, you now have a story to share about St. Valentine's miracle of restoring sight to a blind girl. It's perfect dinner conversation for Valentine's Day while you share a meal that you made together. Whatever you do, make the time for your spouse. My book seeks to help make that time extra special as a way to talk, cook, eat, and pray together. Have a happy Valentines Day!
Try the featured recipe from Spicing Up Married Life that Joe and Jess were making – Rigatonni alla Carbonara!
Another great Gift Idea – Take your spouse on pilgrimage in Spain or Italy for a truly romantic and faith-filled getaway!
Looking for a big surprise to give your loved one? How about taking a trip with me and other Catholic personalities, like Gus Lloyd and Leah Darrow, across the world to experience the spirituality and cuisine of incredible destinations that include Spain, Portugal, and Italy? Click the images above to learn more and register easily online. These pilgrimages have changed my own life in many ways, and the hundreds of pilgrims who have joined me can attest to just how incredible and even necessary these trips have been for helping us to grow in faith.
Let Us Pray
Dear Heavenly Father, thank You for the love of my life. Thank You for showing me Your face through my spouse/friends/children/community, and for offering the sacrament of marriage as a way to more fully participate in the act of love. We pray for all marriages and families, in hopes that they may grow stronger through participating in monthly meals as prescribed in the book Spicing Up Married Life. We pray also for those who are single, widowed, separated, divorced, or lonely – may they find solace in Your endless love every day and make St. Valentines Day a special celebration of that love. We glorify You, we praise You, we ask you for Your mercy and love. Thank You God. Through Christ, our Lord. Amen.
Food for Thought
(These are the questions for you and your spouse from the first chapter of Spicing Up Married Life)
1. Do you believe in love at first sight? Did it happen to you?
2. When you first met, did you try to do something different to impress the other person?
3. What role do you think God played in bringing you together?
4. Do your family, friend, or children know what brought the two of you together? Is this a story you are willing to share?